During the lifetime of any key, it is to be expected that it will accumulate some wear and tear over its years of use. When this reaches the point that it will no longer open the lock that it is intended for, however, there is a serious problem. In this case, a new key will have to be cut to replace the obsolete one. DG locksmith is well versed in the practice of key cutting and key duplication service. We can have a duplicate, or a replacement key ready for you in no time.
Key Duplication Service in Brisbane Area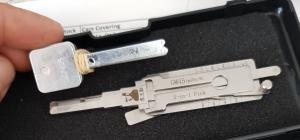 In situations in which a backup key exists to be replicated, the process of providing you with the key that you need becomes a much more efficient task. A key duplication can take as little time as 5 minutes, giving you back to your everyday life in no time at all, and often at a lower expense.
Key Cutting Services in Brisbane
When an identical key to the one that you are hoping cut does not exist, or it is too damaged to replicate properly, it will be necessary to cut a key from scratch. Though this can become a more timely process, we are still more than capable of providing you with the key that you need, whether you are looking for our car key cutting service, or our house key cutting service.
Here are some of the potential services that DG Locksmith can offer you:
Mobile locksmith services
Keys cut for house key replacement
House key cutting
Car key replacement
Car key cutting
Jammed key removal
Call DG Locksmith Today
For the key cutters professional expertise that you need to ensure the job is done correctly, Call DG Locksmith today. You can reach us by telephone at (07) 3341 4795 or send us an email at [email protected] . We are here to provide you with all of the key cutting services that you require.
Popular Questions
How do I replace a broken key to my car?
If you call us at DG Locksmith we will be more than capable of providing you with a replacement car key. In a few minutes we will hand you the key that you need and you will be back on the road.
To make a spare key do I need the original?
For a spare key to be cut it is not necessary that you provide us with the original key. We are capable of having the key cut from scratch, even if the original has been lost or damaged.
Why Should You Choose DG Locksmith?
With 15 years of experience in locksmith services, we have grown into the best in the industry for efficient and reliable service. We are a licensed locksmith company and are insured and bonded for your assurance. For any possible needs that you may have when it comes to the replication or replacement of your keys there is no better provider of professional service and a place where to get keys cut than DG Locksmith.
Key Cutting Gallery