In times of an emergency, it is crucial that you receive the best service possible as quickly as possible to fix the situation properly. DG Locksmith is a company that is well prepared and highly experienced in providing expert emergency locksmith services to ensure that the problem is solved with efficiency and care.
Lockouts & Break-Ins Help
Finding yourself locked out of your home or your car is undoubtedly a frustrating and stressful experience, but with our professional locksmith services, you will be back to normal life in no time. If you are seeking assistance with a home lockout or a car lockout we can provide our mobile locksmith services to ensure that your issue is remedied as quickly as possible. Even if you have lost the keys to your vehicle or home, we can provide you with the replacement keys that you need. A break in or a burglary can understandably leave you shaken and feeling vulnerable. DG Locksmith is able to repair any locks that have been damaged, or if necessary offer lock replacements.
Whatever the damages inflicted to your locks, whether they be to the locks on your doors, your windows, or any other potential entry points, we can ensure that you are once again protected, and left more secure than ever before.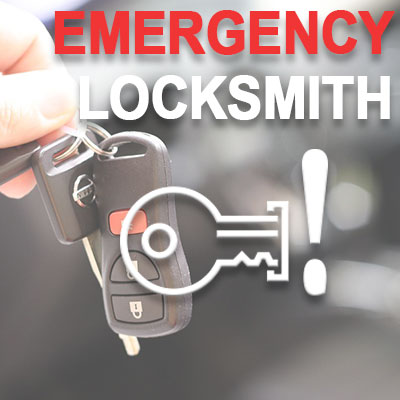 In Case of an Emergency, We Assist You
We understand the common problems you face as a car owner, which is why we specialise in:
Mobile locksmithing services
Home lockout assistance
Apartment lockout assistance
Broken lock repairs
Jammed key removal
and more
24/7 Locksmith Service Hours
Emergencies can occur at any hour of any day, so it is important to know you can receive the assistance you need in those difficult situations. DG Locksmith offers 24/7 service hours for whatever your emergency locksmith needs may be. When it comes to the security of your home, there is no time to waste.
Why Should You Choose DG Locksmith?
As a company with 15 years of experience in servicing the public with their locksmithing needs, we have seen our fair share of emergency locksmith situations. We are experienced and prepared to help you through this difficult time. As a licensed locksmith company, we have the certification to guarantee our professionalism in providing you with the services that you need. In addition, we are bonded and insured for your assurance.
If you need emergency locksmith services, DG Locksmith can help. You can reach us 24 hours a day by telephone at (07) 3341 4795 or send us an email at [email protected] . We are here to give you peace of mind, and help you through these stressful situations.
Popular Emergency Locksmith Questions
How long will it take to make a replacement key?
A replacement key, whether it is a duplication of a spare key or a fresh cut, can be done on site, and will not require a long waiting period. It can be done within a few minutes, allowing you to get back to life as usual.
Are all locksmith companies open 24 hours a day?
Most locksmith companies are only open for the conventional business hours. This means that they will conventionally only be able to provide you with their services between 9:00 am and 5:00 pm on business days.
Before
After